---
Date: December 14th 2002
Article by: Peer van Empelen (Editor & Hardware Reviewer)
Product was donated by : CaseAce
Company Profile

Established in early 2000, CaseAce Products is rapidly emerging as the innovation leader in the exploding LAN gaming world. Our GearGrip product line has been extremely well received by gamers and computer enthusiasts around the world.
Our company philosophy from the beginning has been to respect each customer by providing products with uncompromised quality and utility and to do so while providing the very best customer support. We design each product with the quality and features needed in the real world. We use the products we sell and you will find that we are continually improving them based on experience and input from our customers. Whether you purchase our products directly or from one of our many resellers we will make sure you are satisfied.
We are based in Southern California (San Diego, USA) and dedicated to the design and manufacture of high quality, innovative computer-carrying solutions. Whether you are a LAN gamer, technician or salesperson I hope you will find our products the answer for your computer-carrying needs. If not, let us know. We are always looking to improve. We also have a number of great new products in development, one of which might just meet your needs (sign up on our mailing list and we will let you know as new products are released).
Product Introduction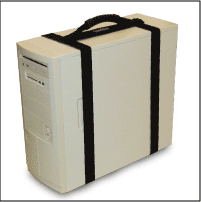 Images Copyright by CaseAce
Product Features

I could make a easy copy-paste of CaseAce's website as they have all the important info on there. I did check if everything they stated was on the product and it was there; even stuff I didn't notice myself at a first glance.

CaseAce LCD Harness

1.5" heavy duty webbing and buckles.
Premium soft-grip handle
Tame dangling cables with the CableGrip(TM) cable manager
Secure mesh pocket holds the display's power supply and cord
Adjustable shoulder strap with carabiner-style snaphooks
Available in three colors (Navy, Black and Red)
Available in two sizes:



- 15" fits most 15"-16" displays
- 17+" fits most 17" -19" displays

CaseAce LT

Premium soft-grip handle
Aluminum stiffened structure for better stability
1.5" heavy duty webbing and hardware
Fits computers up to 60" (152 cm) in circumference and up to 70lbs (31.75 kg)
Quality extras like triple bar tacking on the handle and buckle bumpers to prevent damage to your case.


Product Use and Purpose

I'll start out with the simple product : The CaseAce LT. This easy to use product solves the problem of missing any handles on a computercase. It is built at high standard and it feels sturdy enough to hold even the heaviest case. I needed to test that offcourse so I took my stocked Antec Performance Plus 1080 AMG and tried the product. One small reminder on the Antec case : It weights in at 8 pounds empty! So Imagine the weight when filled with 4 SCSI-drives and some more crap I have.

Here's what you get : a neat bundle with a tag stating it's features and usage.

Using the instructions will make your computer portable in no-time. So I spread the harness out as stated in the instructions.

I put the case in the middle of the harness.

Wrapped the straps over the case.

And locked the buckles. I measured out the strap length before locking the buckles ...after that you MUST adjust the straps or your case will fall out!

This handle is really great. Soft on the hands and very sturdy.

When you pick up the case you will notice some slack in the buckles. It's impossible to get it all out, considering your case's weight stretches it all.

One minor fallback : When you have a case with feet you will have to slide the straps around a bit to have it firmly locked in place. In my case the feet wouldn't budge so I left it like this.

On with the CaseAce LCD Harness >>